The Dish: Follow the Blue Quail to cheesy, spicy eats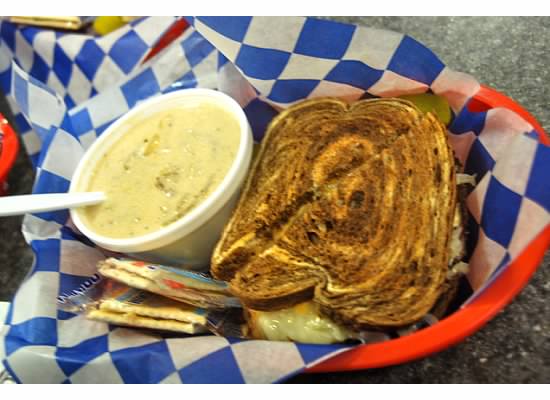 I was driving through Goliad the other day and as I was driving, a big blue quail caught my eye. Now, I wasn't tripping on blotters or hitting the pipe - though it may sound like it - there was actually a big blue quail perched on the side of the road. It just so happened it was a big, wooden cutout that read the business hours and the address for the Blue Quail Deli.
Tucked in the historic district of Goliad, the delicatessen sits a block from the courthouse square and just off of U.S. Highway 59. Their menu and hospitality was a refreshing change from the ninety degree weather and not having any air conditioning in my little red car.
I asked the smiling face behind the counter, clad in a blue apron and French-braided pigtails, what she recommended as I had never been there before. She replied with an, "everything's good." She rattled off a few different items from the menu, and I settled on a panini sandwich called Pam's Special. I was sold on the jalapeno jack cheese, the turkey, tomato and the sole fact it was a panini. I love pressed sammies. Who doesn't enjoy a crunchy outside and a gooey filling?
She also offered me some of the Blue Quail's award-winning cream of jalapeno soup, which they so dubbed "the endorphin maker." And who am I turn down an award-winning soup? And one with jalapenos in it at that.
The panini was perfect, and the tomatoes didn't even slide out of the sandwich like they do sometimes. It ended up being a lot of food for one sitting paired with the cup of soup. The soup was good, it did have a nice kick to it, but I have to admit, being from New Mexico, I have acquired quite a knack for the fiery foods. It did put a little sweat on the schnoz there, so if the fiery foods have a little spot in your stomach that warms your insides, bon appetit - its good.
essica Rodrigo is a page designer/copy editor for the Victoria Advocate. She is hungry for more and is looking for other restaurants to dish. Submit ideas to jrodrigo@vicad.com.